Description
ACE-031 is a protein therapeutic. Muscle growth is regulated by proteins in the body which act as on or off switches. The drug contains a recombinant fusion protein which is produced by joining a portion of the human ActRIIB receptor to a portion of a human antibody. The muscles may become stronger when the drug acts by reducing the off signal which stops muscle production. The drug builds up the muscle and increases its strength by inhibiting a decoy receptor that binds myostatin before it is able to bind with the active type II receptor (ActRIIB).
At higher doses, the effects of ACE-031 on skeletal muscle were encouraging. After a single dose of ACE-031, subjects developed roughly 1 kilogram (over 2 pounds) of muscle at 2 weeks. Moreover, ACE-031 altered biomarkers of fat metabolism (increased adiponectin and decreased leptin) and bone formation and resorption (increased BSAP and decreased CTX) at single doses of 1 and 3 mg/kg.
ACE-031 was generally well-tolerated at all dose levels. No serious adverse events were observed. The majority of adverse events were mild and transient.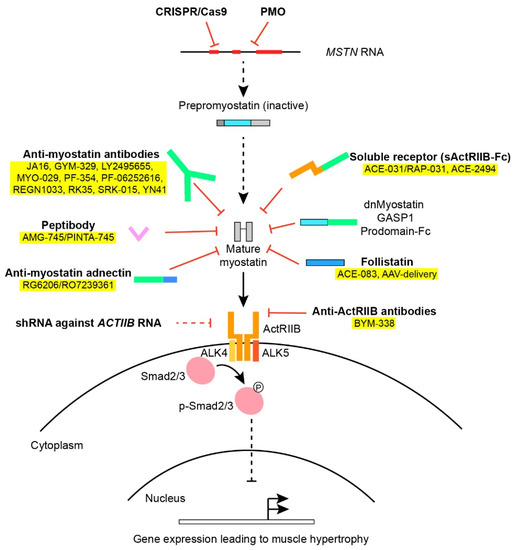 ACE-031 is an engineered decoy receptor and myostatin inhibitor used in attempts to treat children with Duchenne muscular dystrophy (DMD). The ACE-031 receptor circulates outside the muscle-fiber membrane. Because this receptor binds to myostatin, it lowers the amount of myostatin that can bind to the native receptor in the membrane (ActRIIB), preventing myostatin from delivering the muscle growth-limiting signal.[8]
Concentration
1mg/ml at 2ml per vial.
the lyophilized vial that will require BAC water and reconstitution.
Half-Life
24 Hours
DISCLAIMER
Products are furnished for LABORATORY RESEARCH USE ONLY. This product should only be handled by qualified, and licensed professionals. The product may not be used as a drug, agricultural or pesticide product, food additive, or household chemical – and may not be misbranded as such. All information on this website is available for educational purposes only. Bodily introduction of any kind into humans and/or animals is strictly forbidden by law.