Description
MOTS‐c is a peptide of 16 amino acids expressed by a mitochondrial gene. Research provides evidence that mitochondria play a key role in signaling and in energy production.
MOTS-c regulates metabolic functions throughout the body, including turning glucose into usable energy. Preliminary studies show evidence for improved control over blood sugar levels for those with type 2 diabetes and obesity.
Research also shows that skeletal muscle is the major target tissue of MOTS‐c. The skeletal muscle enhances insulin sensitivity and increases glucose uptake in myocytes (muscle cells) by activating the AMPK pathway and at the same time without increasing insulin. It is fair to call MOTS‐c an exercise‐mimetic, meaning it imitates exercise on the body. Exercise also increases muscle glucose uptake without stimulating insulin.
AMPK (AMP‐activated protein kinase), was identified in 1999 as the master switch for metabolism and the central regulator of both glucose and lipid (fat) metabolism. Since then it has been a target for therapeutic intervention against metabolic conditions such as type‐2 diabetes.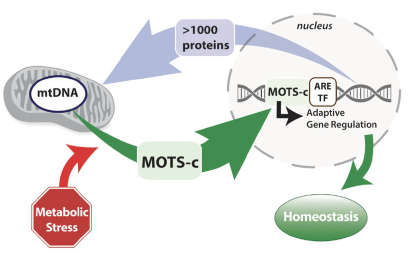 MOTS-C BENEFITS
Promotes fatty acid metabolism in the liver
Promotes metabolic flexibility and homeostasis
Helps regulate mitochondrial energy
Protects against age and diet-dependent insulin resistance and obesity
Helps with weight loss
Promotes resistance to metabolic stress
Improves exercise capacity
Helps prevent osteoporosis
Improves glucose regulation
Promotes cell differentiation to form osteoblasts
Concentration
10mg/ml at 2ml per vial.
the lyophilized vial that will require BAC water and reconstitution.
Half-Life
24 Hours
DISCLAIMER
Products are furnished for LABORATORY RESEARCH USE ONLY. This product should only be handled by qualified, and licensed professionals. The product may not be used as a drug, agricultural or pesticide product, food additive, or household chemical – and may not be misbranded as such. All information on this website is available for educational purposes only. Bodily introduction of any kind into humans and/or animals is strictly forbidden by law.|